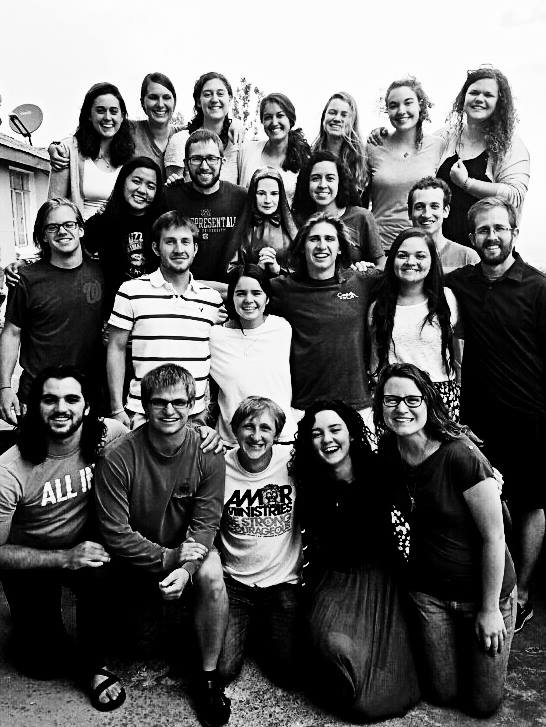 Move to a new city, serve the homeless for two years as a missionary, then work at a Catholic parish?
Yes.
I just finished reading the book "Unbroken" by Laura Hillenbrand. The book tells Louie Zamperini's story of surviving 46 days on a raft in the Pacific Ocean and over two years in Japanese POW camps. He wouldn't have survived his harrowing experience if not for other soldiers who shared food when the rations were already next to nothing.
My story doesn't include sharks, starvation or inhumane conditions like Louie's. I don't have to grapple with staying alive physically, yet every day I have to make the choice to stay alive spiritually.  And I would not have survived without friends sharing their strength with me.
In late August of 2014 I drove for ten hours to a city and state I had never been to. I didn't know anyone in Colorado and had never spoken to a homeless person in my life, but I had signed up for an entire year of doing just that, talking to homeless people as a missionary with Christ in the City. One year of service turned into two.
What happened to me in those two years? I wanted to quit. Wow, that is the first time I've admitted that. I wanted to quit! I wanted to run away from the early mornings filled with Mass and prayer, every moment of the day filled with something to accomplish (prayer, ministry, office work, training), cooking for 25 people. I was discouraged by the lack of visible change in our homeless friends who didn't seem to be any different than when I first met them, or worse yet, fell back into addiction and old ways.
And I would have quit; if not for Bri who always had something to say abou t the Lord's plan, or Anna who loved the homeless with a compassion that I tried to emulate, or Trey who would strive to improve technology to better serve our friends on the street and all the other 20+ missionaries who lived, worked, and sang loudly in the van driving to ministry. It was my missionary family that kept me going.
It dawned on me last week that I would say "Yes" to everything in the past 4 years again in a heartbeat.  Someone asked me what the hardest thing and the best thing about being a missionary was. I have been asked these questions hundreds of times, and I usually have a rehearsed answer. But this time I answered for real. Hardest thing? Realizing I can't fix people, that God is in control of healing, not me. Best thing? Community. Relationships. People supporting me and me supporting them.
So why did I choose to work at Holy Name after missionary life? Because being a missionary brought me to Denver and to this parish.  Because at a parish the hardest and best things of missionary life are also present. I still can't fix people, but a smile and an invitation can bring God's healing. Holy Name has the community that makes all the simple tasks worth it; it's not about what I do, it's about who I serve and the relationships I build.  It's about friends sharing their strength.
 Marie is from the great state of North Dakota who enjoys coffee, having deep conversations, and playing volleyball as often as she can.